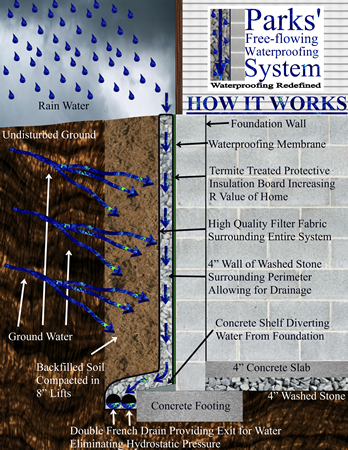 Keeping your foundation and basement dry is paramount to protecting your home or business. Unfortunately, many waterproofing methods for basements are ineffective, as they do not properly address the water issue. As part of our services at Maxwell Landscaping, we are proud to offer the Parks' Free-Flowing Waterproofing System for our customers. This system controls water and prevents it from entering your home's basement. It offers a truly effective solution to water invasion.
This system is different than other methods of waterproofing. It adds multiple layers of protection around your basement or foundation walls. Outside of the waterproofing membrane, there are four inches of washed stone providing drainage away from your foundation. This is solidified with compacted soil that is backfilled in 8 inch lifts. At the bottom of the washed stone layer, a concrete drainage shelf diverts water to a French drain that carries water away from the building's walls. This eliminates the water, stopping leaks and eliminating damage from hydrostatic pressure.
Keep Your Home's Foundation Dry
Water penetration around and through your foundation can cause many issues that can damage your home. Beyond basement leaks that can cause expensive water and mold damage, a wet foundation can settle, crack and become unstable. With the Park's Free-Flowing Waterproofing System, you can protect your home or business from water damage and leaks with this innovative technique. Instead of only putting a barrier between your foundation and ground water, it removes the water from around your foundation. It is an affordable option for keeping your home's foundation dry, preventing thousands of dollars in possible damage.
At Maxwell Landscaping, we strive to offer our customers the highest level of service and workmanship in every project we undertake. As licensees of the Parks' Free-Flowing Waterproofing System, our customers know we will deliver the best results. Contact us today to learn more about this exceptional new service.
Areas we serve with basement and foundation waterproofing:
Cornelius
Denver
Maiden
Mooresville
Sherrills Ford
Statesville
Troutman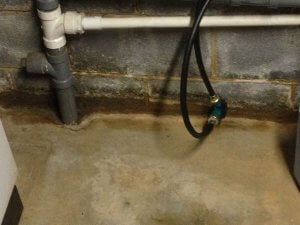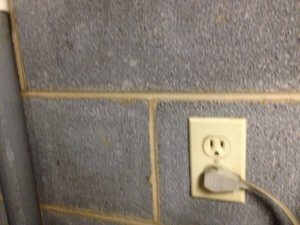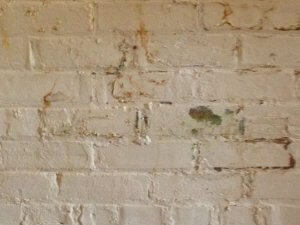 Basement Waterproofing Testimonials
"This system is a foolproof way to waterproof your basement."
– Dwight Hartzsog, Building and Construction Technology Instructor WCC
---
"This waterproofing system is foolproof and well worth the money!"
– Brandon Bess – pleased customer of the Parks' Free-Flowing Waterproofing System
---
"It is going to be revolutionary to the building industry"
– Chad Wayne – Church & Wayne Construction
---
"We have not had gutters for two years and have had no leaks."
– Robert Schultz, owner Rebuilt-it Inc.
---
"It made a believer out of me!"
– Michael Pierce – pleased customer of the Parks' Free-Flowing Waterproofing System
---
"This system is 100% efficient!"
– Matthew Higgins – MDH Construction
---
"I have no guttering up and the entire house has hip roofs so I get water all the way around every time it rains. But I have a dry basement…"
– Michael Byrd – Another pleased, impressed customer of the Parks' Free-Flowing Waterproofing System