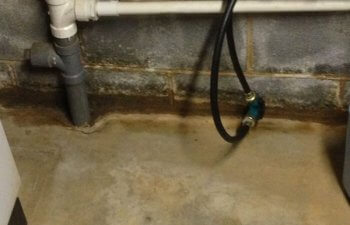 Whether your basement is functional or an unused room, flooding is never ideal. Moisture intrusion can creep up on you. As water from the outside slowly makes its way through walls or the foundation, there is a real risk of structural damage and other issues.
Even low level moisture intrusion is a problem. Water encourages mold and mildew, which can damage or discolor structures. There is also a risk to health associated with some kinds of mold. You may initially detect an issue due to a stuffy or damp odor. A visual or touch inspection can also reveal moisture on walls, the floor or ceiling of your basement. With holiday hosting to consider, the last thing you need is a flooding disaster.
Basement Flood Risk
In many cases, moisture is caused by poor ventilation, which causes the basement to become damp. This issue is not related to water coming from the outside but, rather, liquid evaporating into the air. The air becomes humid and cannot escape in a poorly ventilated space. Water will seep into the walls from inside the basement, resulting in a damp environment that is the perfect breeding ground for mold.
Flooding is an entirely different problem that is typically caused by a burst pipe or poor outside drainage. Water that cannot find a clear path to drain away in an effective way may find its way to your basement walls. As more and more water pools up against the structure, seepage will eventually occur. If there is a significant breach in a wall or foundation, this water can flood into the room.
Dangerous Structural Damage
Water is a destructive force, even in low volume over a long period of time. You may detect different types of damage, depending on the affected structures. For instance, wood can rot, expand or contract due to moisture intrusion. A higher water-to-cement ratio in concrete will reduce strength, which is not ideal for supporting structures such as a foundation or basement walls. This kind of damage can compromise the safety of your home.
Drainage solutions from Maxwell Landscaping will effectively stop water from reaching your basement walls. Call our offices today to book an inspection at your North Carolina home or business premises.