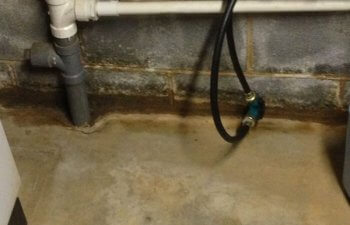 A sloped landscape can provide an attractive backdrop to your home. However, it is a scientifically indisputable fact that water will always find its level by following the path of least resistance. When there is a heavy rain, the water that soaks into your sloped landscape may forge a path that directly leads to the foundation walls of your basement.
Poor Drainage
Poor drainage may be the result of a landscape that wasn't designed to handle heavy rain. Compacted soil in the wrong place or incorrect grading can also force rain water toward basement walls. Water that pools in these areas cannot effectively drain away and will eventually find its way through cracks in the walls.
Seepage can cause mold to form in your basement undetected. There is also the potential for damage to timber structures, concrete walls and slab. The Parks' Free-Flowing Waterproofing System provides a multi-layered solution that diverts water away from basement walls and foundations to effectively eliminate the risk of seepage or flooding.
Why Choose Parks' Free-Flowing Waterproofing System?
The problem with the vast majority of internal waterproofing membranes is that they do not prevent water from reaching walls and foundations. Besides which, these systems do not typically meet building codes. If you try to sell your home, the property is likely to fail an inspection.
The Parks' Free-Flowing Waterproofing System provides an external barrier to water that does meet code and offers effective protection for basement walls and foundations. Water intrusion can compromise the structural integrity of your home, resulting in significant repair costs. You need a system you can rely on to divert water away from the property.
To learn more about the advantages of the Parks' Free-Flowing Waterproofing System, give Maxwell Landscaping a call today. We can take care of basement waterproofing, as well as giving the exterior of your property a professional makeover!