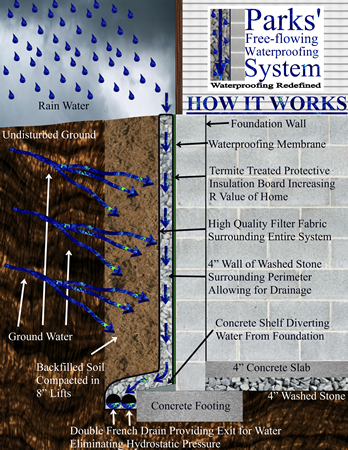 When you need a quality basement waterproofing contractor in Charlotte, call the experts at Maxwell Landscaping. We offer the latest innovation in home basement waterproofing: The Parks' Free-Flowing Waterproofing System. Unlike many other systems or methods, this technique does not just create a barrier between your home and ground water; it removes the water from around your home's basement and foundation, eliminating the cause of basement leaks and foundation damage.
Why did we decide to become licensees of the Parks' System? Because it works and it is guaranteed. At Maxwell Landscaping, we have always provided top quality workmanship and service for our customers in and around the Charlotte area. So when it came to providing our customers with the best option for waterproofing their basements and foundations, we chose the best system available. With the Parks' System, we can offer our customers a lifetime guarantee against leaks which fulfills our mission to provide only the highest level of service to our clients.
Keep Your Home's Foundation Dry
The way the Parks' Free-Flowing Waterproofing System works is through excellent drainage of water away from your home. This is achieved by creating a four-inch wall of washed stone outside of your foundation's waterproofing membrane. Under that drainage wall is a French drain that is used to transport water away from your home. As ground water creates hydrostatic pressure that pushes water towards your home's foundation, it is met by this drainage system that diverts the water before it ever reaches your foundation or basement wall. With no water pushing against the membrane, there are no leaks, making it a fool-proof waterproofing system that can last for decades.
Water intrusion causes extensive damage to homes all around Charlotte every year. Settling foundations, cracked walls, water damage and mold are just some of the problems poor waterproofing can create. Don't let your home become a victim of water intrusion. Contact Maxwell Landscaping today to learn about how affordable it is to get the best waterproofing system available.