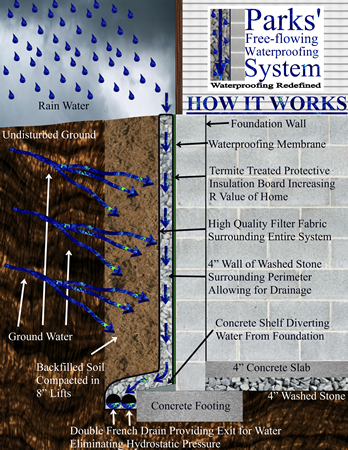 Protecting your basement and foundation from water intrusion is critical for your home. At Maxwell Landscaping, we offer the latest innovation in basement waterproofing to prevent damage that can occur due to basement leaks and other water-initiated issues. Your home's foundation is under constant assault from ground water. That water can disrupt the structural integrity of your basement and allow water to seep in. With the use of the Parks' Free-Flowing Waterproofing System, we can help protect your Concord home and your investment.
What makes the system we use more effective than other waterproofing methods? The advantage is that this system removes the water from away from your basement walls and foundation. This eliminates the source of basement leaks and foundation water damage. Your home's basement walls will be protected by a wall of washed stone that helps drain the ground water that attacks your foundation. This water is removed away from the home through a French drain. Unlike other systems, it does not just insulate your foundation from water, it actually removes the water, stopping basement leaks and water damage before it can occur.
Keep Your Home's Foundation Dry
It is the ground water in the soil around your home that can causes basement leaks, excess humidity, wall cracks and foundation settling. The water in the soil around your home is attracted to your foundation and can cause hydrostatic pressure that damages your foundation and pushes the water into your home. Maxwell Landscaping will protect your home's foundation by creating a barrier that drains this water away, stopping the force of hydrostatic pressure. The water is moved away from your walls before it can do damage or enter your home. It is a fool-proof system that is guaranteed to keep your foundation dry and prevent basement leaks.
Maxwell Landscaping is known for our exceptional workmanship and quality hardscapes that we have created for homes in Concord. We now are proud to also offer protection of your home's foundation from water damage. If you need a quality basement waterproofing contractor in Concord, contact us to learn more about the Parks' Free-Flowing Waterproofing System.