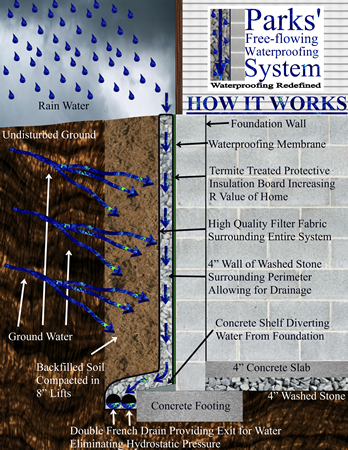 Your home is one of your biggest investments. Basement leaks and water damage to your foundation can quickly put this investment at risk. If you are looking for a quality basement waterproofing contractor in Davidson, call us at Maxwell Landscaping. We offer the latest technology in basement waterproofing using the Parks' Free-Flowing Waterproofing System that can protect your home from water intrusion.
Your home's foundation and basement is a magnet for water. The ground water in the surrounding soil is attracted to your home, making it necessary to protect your foundation. While almost all homes have a waterproofing membrane around the foundation, this is not enough to prevent basement leaks and other water damage. The water pushing against your home's foundation from the soil can cause hydrostatic pressure that can create cracks in the walls and cause settling as water penetrates your basement. With the Parks' system that we use at Maxwell Landscaping, water is diverted before it ever reaches the basement or foundation of your home, relieving this pressure and preventing leaks or damage.
Keep Your Home's Foundation Dry
The difference in the system we use to waterproof your foundation is in the innovative water elimination method. We will install a four-inch wall of washed stone along the exterior of your basement or foundation walls. Then we will add a fiber cloth to separate the stone from the soil. We carefully add backfilled soil around this wall in 8" lifts that adds stability. As water presses toward your home, it is drained through the stone wall and into a French drain, that carries it away from your home. No other method can remove as much water as quickly, keeping moisture away from your foundation for a dry, protected home.
Without effective waterproofing, your home can sustain cracks in the foundation walls and undergo premature settling. It can also cause high humidity in your home, as well as basement leaks, that can lead to expensive water and mold damage. For the ultimate solution in protecting your Davidson home from water intrusion, contact Maxwell Landscaping today. We are your trusted source for home waterproofing.