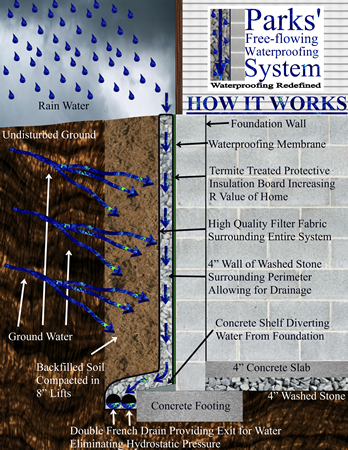 Are you looking for a basement waterproofing contractor in Gastonia? Look no further than Maxwell Landscaping. We use the latest technology to waterproof your home's basement and foundation. We can eliminate the water which can cause basement leaks, excess humidity, foundation settling and wall cracks. We don't just insulate your home from water, we install a system that moves water away from your home's foundation before it can do any damage.
Your home's basement beckons water, creating what is called hydrostatic pressure from the ground water that surrounds your home. While the waterproofing membrane that is between your basement walls and the soil is meant to deter this water, it is not enough. At Maxwell Landscaping, we are licensees of the Parks' Free-Flowing Waterproofing System which can give your home protection from hydrostatic pressure. Using a wall of drainage stone and a French drain, water is whisked away before it can penetrate your waterproofing membrane, keeping your home protected from water damage.
Keep Your Home's Foundation Dry
If water is allowed to press into your foundation, it can cause many problems. Water leaks and high humidity in your basement are just the beginning. Your home's foundation can settle, freezing water can cause wall cracks and the entire structure can be put at risk. We can help protect your home from this water invasion by adding several layers of protection between the groundwater and your home. If the water is not allowed to reach your foundation, your home is kept dry and free from damage due to leaks or other ground water issues. The Parks' system we use is guaranteed to stop water from entering your home for a lifetime.
Maxwell Landscaping has been creating beautiful, quality hardscapes for homes around Gastonia for many years. With this innovative new system, we can also protect the homes of Gastonia from basement leaks and other water damage issues. Contact us today to learn more about this affordable way to stop water from destroying your home's foundation.