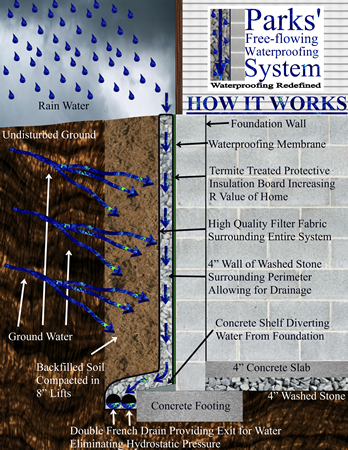 At Maxwell Landscaping, we can protect your Huntersville home from basement leaks and foundation water damage. Your home is under a constant barrage from groundwater trying in to invade the basement and pressing against your foundation. We use the latest techniques to draw water away from your home and eliminate basement leaks, foundation settling due to water and other expensive issues that can jeopardize your home's structure.
Did you know that most basement leaks and foundation water damage is not caused by surface water? While surface water runs away from your home, it is the ground water underneath the surface that presses against the foundation and can leak into the foundation. The waterproofing membrane around your basement can only handle so much of this pressure before it begins to allow water to attack your walls. At Maxwell Landscaping, we can create a drainage barrier that allows water to flow away from your home, stopping leaks before they start.
Keep Your Home's Foundation Dry
The trick to keeping your home's foundation dry is to get rid of the water that eventually presses against it. We do this using the innovative Parks' Free-Flowing Waterproofing System. This method creates a drainage wall of washed stone that is four inches thick between your basement or foundation and the soil surrounding your home. We backfill this wall with soil that is compacted with eight-inch lifts, the preferred method for backfilling. When hydrostatic pressure pushes ground water toward your home's foundation, it naturally drains down through the stone wall and into a French drain that carries it away from your home's foundation. There are never any leaks because water never reaches the foundation. It is a fool-proof system that is guaranteed to stop leaks for a lifetime.
Water can cause an enormous amount of damage to your home through foundation settling, basement leaks, wall cracks and mold damage. If you are looking for a quality contractor in Huntersville that can protect your home's foundation and basement from water intrusion, contact us today at Maxwell Landscaping.