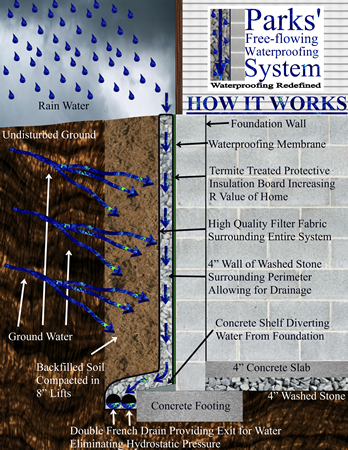 Are you concerned about basement waterproofing for your home in Newton? It should be a concern. Water intrusion can cause more than just basement leaks. Your home's foundation can prematurely begin to settle, wall cracks can form and mold can take over your home. Stop basement leaks and other home foundation water problems by calling your local contractor for basement waterproofing: Maxwell Landscaping.
At Maxwell Landscaping, we are proud to be official licensees of the Parks' Free-Flowing Waterproofing System. While other methods claim to help waterproof your home, this system guarantees your foundation against leaks for a lifetime. This system does not just stop water from entering your home, it pulls it away from your home before it can cause damage. This new technology is an affordable way to ensure your investment into your home is protected from water intrusion damage for many decades to come.
Keep Your Home's Foundation Dry
Many homes in Newton have been damaged by water intruding into the foundation. Ground water causes hydrostatic pressure against your basement walls and foundation that pushes the water into your home. With the system we use at Maxwell Landscaping, this pressure is relieved by draining the water away from the home before it impacts your foundation. We install a washed-stone drainage wall along your basement walls or foundation and the surrounding soil. As water flows towards your home, it naturally drains down the stone wall into a French drain and away from your home. The system is so effective that we can offer a lifetime guarantee against leaks.
Your home is one of the biggest investments you will make. Protect it from water damage with the best waterproofing system available. Maxwell Landscaping is the trusted contractor in the Newton area for quality waterproofing of your basement and foundation. Contact us today to learn more.