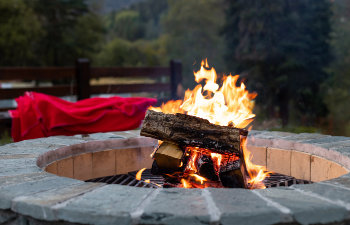 Stone fire pits are an excellent addition to any outdoor space. They provide a great source of warmth and light and create a cozy and inviting atmosphere for friends and family to gather around. But beyond their obvious aesthetic appeal, stone fire pits can be used in various ways to enhance your outdoor experience. Here are ten uses for stone fire pits that you may not have considered.
Cooking. Stone fire pits are perfect for outdoor cooking, whether roasting marshmallows or cooking a full meal. With some creativity, you can even use your fire pit as a makeshift oven, baking bread or pizza right over the flames.
Ambiance. A stone fire pit creates a warm, inviting atmosphere perfect for a romantic evening or a cozy night with friends. The flickering flames and gentle fire crackling can be incredibly soothing and relaxing.
Entertainment. If you love entertaining, a stone fire pit is a must-have. It provides a focal point for guests to gather and can be used for everything from roasting marshmallows to telling stories.
Meditation. Many people find the gentle sound of a crackling fire calming and meditative. If you want to unwind and destress, try sitting by your stone fire pit and simply enjoying the flames.
Stargazing. A stone fire pit provides the perfect backdrop for stargazing. You can curl up by the fire on clear nights and watch the stars twinkle overhead.
Outdoor living. Stone fire pits can be used to create an entire outdoor living area. With comfortable seating, lighting and other amenities, you can turn your backyard into an extension of your home.
Landscaping. A well-placed stone fire pit can be the focal point of your backyard landscaping. You can create a beautiful and functional outdoor space by incorporating other elements such as plants, rocks and water features.
Exercise. If you're looking for a way to stay active outdoors, try using your stone fire pit as a workout tool. You can do everything from step-ups to tricep dips to lunges while enjoying the warmth of the fire.
Therapy. Many therapists recommend outdoor therapy as a way to improve mental health. A stone fire pit can provide a comfortable and welcoming environment for therapy sessions, allowing clients to relax and open up.
Family time. A stone fire pit is the perfect place for families to connect and spend time together. Whether you're telling stories, playing games or simply enjoying each other's company, the warmth and ambiance of a fire pit can make for unforgettable family memories.
Stone Fire Pits Around Maiden, NC
A stone fire pit is a versatile and valuable addition to any outdoor space. Whether you're looking for a way to cook, relax, entertain or enjoy the outdoors, a fire pit can help you do it all. Maxwell Landscaping, Inc. is your stone fire pit specialist in Maiden, Mooresville and surrounding North Carolina communities. Contact us today to learn more!