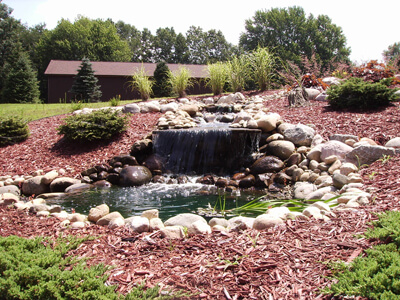 Do you love the outdoors? Living in North Carolina provides a beautiful backdrop and stunning views for many homeowners. To make the most of your yard and enhance the curb appeal of your home, call Maxwell Landscaping and ask about our landscape design services.
Landscape design is an art in itself. Understanding the landscape, the climate and region we live in is just the tip of the iceberg. At Maxwell Landscaping, we look at your yard as a canvas. We offer landscape design services that combine your existing landscape with new plantings and hardscapes to create a carefully constructed palate that is beautiful and blooming all year long.
Professional Landscape Contractors
Our landscape designers are landscape specialists, experienced and talented professionals with a passion for the outdoors. We realize that you take pride in your home its surroundings. We want nothing more than to design a yard that keeps you wanting to be outside enjoying the natural beauty of nature. From manicured natural landscapes to intricate plantings,gardens and retaining walls, we can help design a picture perfect landscape for you and your family. You won't find a more dedicated team of landscape designers within Lake Norman and the surrounding regions.
Our landscape contractors can assist in creating a low maintenance space, whether it is for your retirement years or busy lifestyle. Perhaps your new office or business needs a welcoming front yard that is easily maintained. We are happy to design a landscape plan to suit your needs.
Custom Outdoor Design
Can the landscape in your yard be enhanced with a stone patio or outdoor kitchen? Turn to the design specialists at Maxwell Landscaping. Maxwell Landscaping is a full service landscape and hardscape design company serving homeowners and business owners with landscaping excellence for over 10 years. Contact our Landscape Design Services Professionals today to schedule a hardscape design consultation.
We also provide:
Cornelius Landscape Design
Denver Landscape Design
Maiden Landscape Design
Mooresville Landscape Design
Sherrills Ford Landscape Design