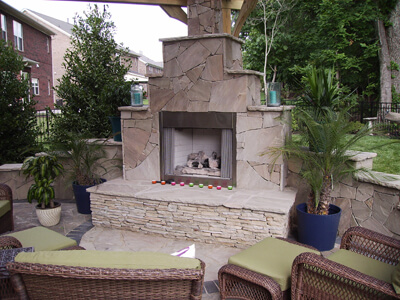 An outdoor fireplace creates a welcoming environment to congregate, relax and enjoy the outdoors. There is not much that compares to spending an evening sitting under the stars listening to the crackle of a warm, roaring fire. Outdoor fireplaces are an unexpected delight to any backyard or landscape. Maxwell Landscaping can create an outdoor fireplace for all to admire.
If your landscape design is begging to be noticed and enjoyed all year long, consider adding an outdoor fireplace for friends and family to gather around every season. Homeowners in in the Lake Norman area need not look any further than Maxwell Landscaping for an outdoor fireplace contractor. We will gladly design and construct an outdoor fireplace at your home or business. You can count on impeccable workmanship and attention to detail from the team at Maxwell Landscaping.
Stone Fire Pits for your Home in Mooresville and Surrounding Areas
Do you love spending time with friends and family huddled around the warm glow of a stone fire pit? Are smores your family's favorite sweet treat? Call Maxwell Landscaping if you are looking for a reputable company to build a stone fire pit for your home in Mooresville or the surrounding area. Whether you are looking for a small place to gather with a simple design or a detailed stone fire pit placed within a large paver patio, we can help. We are here to take your ideas and design a customized plan to meet your needs while maintaining your budget. For nearly a decade Maxwell Landscaping has been creating outdoor living spaces and hardscapes for the good people of Mooresville, Lake Norman and beyond.
Stone Fire Place Contractors Lake Norman
When you live on Lake Norman or in the surrounding area, enjoying the beauty of the outdoors is a privilege reserved for few. Take advantage of your surroundings all year round by adding a stone fire place to your landscape. Maxwell Landscaping wants to be your Lake Norman stone fire place contractors. We are certain you will be pleased with our work, we guarantee it! Contact our Outdoor Fireplace Specialists today for a free estimate.