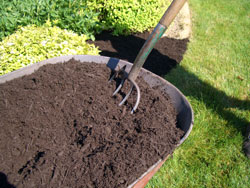 Don't you love how great your yard looks after new mulch is applied to your flower, plant and tree beds? Having a fresh layer of mulch spread around your home helps protect plantings by maintaining root moisture and helping to resist erosion. Maxwell Landscaping offers affordable and reliable mulch installation services to residential and commercial customers in and around the Lake Norman area.
Maxwell Landscaping provides several types of high quality nutrient rich mulch. Choose from colored mulches like brown, black or red mulch. We have double ground hardwood and single ground hardwood mulch and organic top soil. Our mulch installation is comprehensive; we will never cut corners on any of our landscaping services. You can count on our team to neatly and evenly distribute mulch to all desired areas of your property.
Landscape Mulching Lake Norman NC
Maxwell Landscaping has quality landscape mulching for residents and business owners in Lake Norman NC. Keep your landscape design and your property in pristine condition with nutrient rich mulch provided by Maxwell Landscaping. For access to the spreading of bulk mulch, call us today for more information. We look forward to providing you with exceptional service.