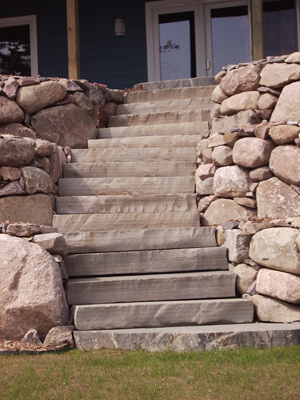 If it is time to embrace the beauty of your surroundings by adding outdoor hardscapes to your home or business, call Maxwell Landscaping today. We have a vested interest in this area and are proud to create high quality hardscapes for homeowners and business owners. Adding an outdoor hardscape creates a space for friends and family to gather. Natural stone patios, outdoor kitchens, custom stone walls and benches welcome family and guests to relax in the tranquil setting of your home or business.
At Maxwell Landscaping, we design and install outdoor hardscapes that leave a lasting impression. Our design team combines the beauty of your natural surroundings with products that will visually enhance your outdoor living experience. Quality products like Tennessee Fieldstone, Tennessee Flagstone and native North Carolina stone are just a few of the natural elements we can incorporate into your hardscape.
Quality Stone Hardscape Landscapers
Let us help you explore the possibilities of your landscape. Maxwell Landscaping is Mooresville and Lake Norman's premier quality stone hardscape landscapers. All throughout the area homeowners and business owners are turning to Maxwell Landscaping for customized landscape plans for their homes and businesses. Our hardscape designs create stunning landscapes with color, texture and dimension.
If you are looking for a stone hardscape company with an impeccable reputation, look no further than Maxwell Landscaping. For the past 10 years, Maxwell Landscaping has been carefully building a following of extremely satisfied customers by providing top quality landscaping services.
Stone Landscaping in Lake Norman
Let Maxwell Landscaping harness our experience and vision to create a one of a kind stone landscape at your Lake Norman home. It is easy to identify the homes that use Maxwell Landscaping for their stone landscaping in Lake Norman. Unique and natural designs, attention to detail and effective communication are just a few of the qualities you can expect from our team. Contact our Outdoor Hardscape Experts today for more information or to obtain an estimate on your project.
Our hardscape contractors proudly serve residents and business owners in the following locations and surrounding areas:
Denver
Maiden
Mooresville
Sherrills Ford
Statesville
Troutman