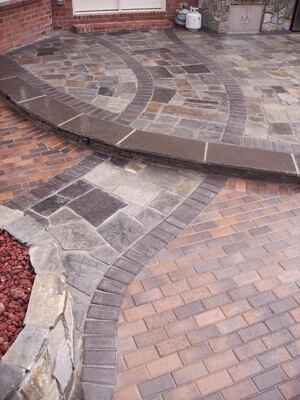 Have you been considering expanding your usable living space to include an outdoor paver patio? This popular interlocking system is durable and visually appealing. The possibilities are endless with a properly installed and creatively designed paver patio. Call Maxwell Landscaping today to inquire about adding a paver patio to your home or business.
Maxwell Landscaping has vast experience installing high quality paver patios in the greater Mooresville area. We proudly use proven products such as Techo-Bloc and Belgard in our designs. You can count on landscape design excellence from the team at Maxwell Landscaping. We are known for creating Mooresville paver patios that leave a lasting impression.
Paver Patio Contractors
Whether you are looking to have a small and intimate gathering space or an elaborate entertainment destination, we are the best permeable paver patio contractors in the Lake Norman area. Our paver patio designs come in all shapes and sizes. We take pride in our creative designs and carefully execute every step of the landscape installation. It is our goal to disrupt your home and time as little as possible.
If you are ready to move forward with an outdoor living space like a paver patio, please give Maxwell Landscaping an opportunity to earn your business. We will gladly provide a free estimate for our services. The use of patio pavers is growing beyond patios, to include intricate walkways, driveways, sidewalks and more. Pavers are an excellent choice for many different hardscape projects, giving homeowners and business owner's affordable hardscape options.
Permeable Paver Patios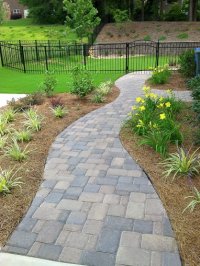 You can enjoy the outdoors like never before with a custom designed paver patio. Let Maxwell Landscaping create a space that is an extension of your home. For expert paver patio landscapers in Mooresville and the surrounding area, contact our Paver Patios Professionals at Maxwell Landscaping today. We will work hard to earn your business and your respect. Our company has the power and vision to create the patio of your dreams. We look forward to being your landscaper of choice.
Our paver patio contractors proudly serve residents and business owners in the following locations and surrounding areas:
Cornelius
Davidson
Maiden
Mooresville
Sherrills Ford
Statesville
Troutman