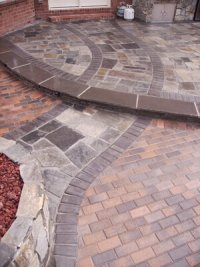 How would a paver patio enhance your commercial or residential property? Choose Maxwell Landscaping for trusted landscape and hardscape design services in Huntersville. We understand the importance of creating an outdoor living space that is both functional and visually appealing. Customers love our ability to offer a full range of paver patio options using high quality, proven products such as Pavestone and Belgard. Whether you want to craft a small gathering space, enhance a large area for entertaining or create intricate walkways or driveways around your home, our paver patios can be an excellent addition to your landscape.
Paver Patio Contractors
You can trust our paver patio contractors to provide quality workmanship and personalized attention to your specific landscaping vision. We always work in a timely manner, with minimal disruption to your home or business. Maxwell Landscaping is proud to offer years of experience and skilled expertise when it comes to both designing and installing your paver patio. We understand that precise measurements and careful engineering are essential to create an excellent paver patio.
Customer satisfaction is important to us. Therefore, we make sure we provide premium hardscape designs that not only meet your goals but also adhere to your projected budget. At Maxwell Landscaping, there is a paver patio option for everyone!
Contact our Paver Patios Contractors at Maxwell Landscaping and start enjoying your yard to the fullest. A custom designed paver patio can be the perfect extension to your home or business, adding functional and aesthetic value for years to come. We will work hard to exceed your expectations on any of our landscaping design services such as retaining walls, decking, fencing, fire pits and more. You deserve to have the outdoor living space of your dreams and Maxwell Landscaping can make that happen for you in Huntersville.