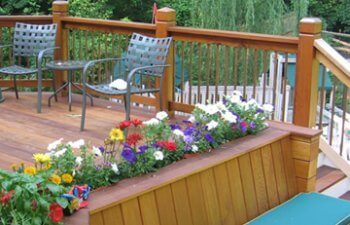 A custom deck should match your home's design and your entertainment style, which is why working with experienced landscapers is important. But can you build a custom deck during the winter? Yes, you can! In fact, it may be one of the best times to build one. Let's look at five reasons why.
More Affordable Materials
Building materials, especially lumber, are in demand during the "building season" in spring and summer. Some projects, like decks, can be built in the off-season when materials aren't as expensive. Choosing to build in the winter may be more cost-effective.
Contractor Availability
Contractors are also in high demand during the spring and summer. Scheduling your project could mean that you end up on a list. When you are eager to use your new deck, this is frustrating. Winter months are slower and usually mean your deck project gets done faster.
No Time Crunch for Permits
Busy contractors are only one way your project may get delayed during the busy season. Building permits are also needed, so waiting to start the project in spring could mean weeks of prime weather passing by. Beginning this process in winter means you have much more time to secure them without missing a thing.
Less Yard Damage
The constant foot traffic and hauling of materials in and out of your yard could damage areas of your yard. However, during the colder weather of winter, the ground is firmer, helping to limit this damage. The grass and other features also have plenty of time come spring to bounce back.
Enjoy Your New Deck in Spring
A winter deck project ensures you have plenty of time to go through the planning stages, secure permits, order building materials and other essential steps so you can enjoy it come the first beautiful days of spring weather. Oh, and start planning that first party to unveil the new project to friends, family and the neighborhood.
Maxwell Landscaping knows how important it is to have a deck that fits your living and entertainment styles but also matches the home and yard in which it will be built. Contact us today to schedule a free estimate with one of our custom deck experts.