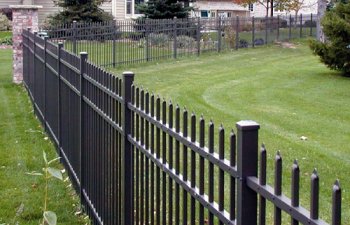 The outdoor areas of your home are extended living areas for you, your family and your pets. You want to feel safe and secure when you are hanging out on your back patio or splashing around in your pool. If your property is wide open without a fence, it may be time to consider the benefits of fencing your outdoor space. Fences can provide safety and security, while adding value and beauty to your home in the Maiden, Concord or Mooresville, NC area.
Protect Your Family and Home
Fencing provides a level of security for your family and assets. While no fence can keep out intruders if they want to enter your property, they are a deterrent. A fence can make it more difficult for human or animal intruders to come uninvited into your yard. You can have peace of mind that anyone entering your property will need to overcome your fencing before strolling into your backyard.
Safety for Kids and Pets
Not only does fencing keep others out, but it can help keep your pets and kids where they are safe. Fencing can keep a child from running out into the street when your back is turned for a second and ensure your pets are secure for their safety. A fully fenced yard is ideal for those with human or furry children, creating a safer environment for enjoying the outdoor space.
Beauty and Value
Not all fencing is added for safety or security. Fencing can add a stylish border for your yard and enhance your home's curb appeal. The classic white picket fence or an elegant wrought iron fence can increase the beauty and value of your home. Depending on the type of fencing you choose, it may provide all the elements – safety, security, beauty and value.
At Maxwell Landscaping, we are fencing specialists that can provide design and installation for your new fence. Whether you want a decorative aluminum fence for enhanced curb appeal or a secure wooden fence for backyard safety, we can provide the fence installation you need. Call us today to schedule a fence quote or estimate.