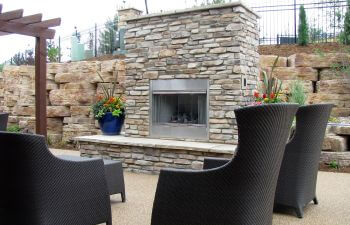 If you are considering installing an outdoor fire pit or fireplace, look forward to reaping numerous benefits. These hardscape features will bring warmth, but you will get much more out of your redesigned landscape.
There are different types of fireplaces, which means there are choices that will complement any landscape design. During the summer days, you will likely spend more time in the yard. However, if you want to extend that time into the evening, a heat source is recommended.
Heat & Comfort
Providing heat and comfort are the most obvious benefits of a fireplace or fire pit. You won't have to go inside when the sun goes down. This setting is also ideal for spending time with family or entertaining friends.
Ambience
Relaxing around a fireplace is made all the better with ambience created from the heat and flames. After a hard day at work or school, you will look forward to sitting in your garden. At night, a healthy fire will glow bright and provide an oasis away from the world.
Hosting Parties
Summer is a great time to host parties for family or friends. The make the most of your time by installing an outdoor fireplace for evening parties. You can even use your new installation to barbeque with the right design elements.
Increased Curb Appeal
An outdoor fireplace is an investment in your home. Curb appeal increases when a property has features that appeal to potential buyers. Functional hardscapes are often a unique selling point that can increase the value of your home.
Pest Control
Bugs can bring an end to enjoyment of outdoor spaces. In the evening, some flying pests become more active. With a wood burning fire, you can repel these bothersome critters and continue enjoying your landscape under the stars.
Maxwell Landscaping
At Maxwell Landscaping, we understand the design elements that our customers want in outdoor fireplaces. If you need hardscapes that are both functional and add beauty to your property, consult with our experienced team today. Call Maxwell Landscaping to learn more about fireplace design and installation in North Carolina.