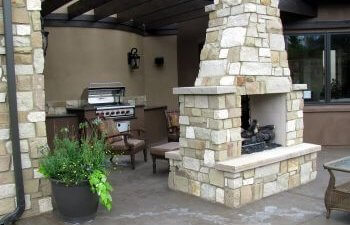 Outdoor kitchens today can be much more than a built-in BBQ on a patio. To make the most of their exterior cooking spaces, some homeowners outfit them with granite countertops, sinks, top-of-the-line barbecues, a refrigerator and luxury appliances. In addition, they include plumbing and electricity, making their outdoor kitchen a fully-functioning culinary realm.
But you do not have to go so extreme to have an outdoor kitchen that will bring you happiness and comfort and give you the ability to be the ultimate host for parties or family gatherings. At Maxwell Landscaping, we can work with you to bring whatever vision you have to life. We can do anything from elaborate, all-inclusive outdoor kitchen layouts to small outdoor wet bars.
If you love being outdoors, we recommend embracing this fantastic opportunity to enhance your home and lifestyle with a custom outdoor kitchen. Here are some ways they can take your home to the next level.
Why is an Outdoor Kitchen a Great Investment?
Adding another kitchen to your home—this time, outside—will raise its value. But that is only one of the reasons installing an outdoor kitchen is a worthwhile investment.
While porches, decks and patios increase the square footage of your home's living space, an outdoor kitchen increases that with the bonus of functionality. It makes an attractive outdoor space that facilitates leisure activities and socializing. The extra utilities are helpful when hosting a large group of people, like family coming in for the holiday season. You will have the best backyard possible if you include a zone with seating, like an outdoor dining room with a roof overhead for comfort when it is too sunny or if it rains.
Cooking outside eliminates smoke and smells and brings crowds to a bigger space. Some scents stay on furniture and clothing for days, with summer heat making this more common. The chef will have a much nicer time cooking and mingling with guests simultaneously, as there will be plenty of room for everyone to gather comfortably.
Why You Should Let Maxwell Landscaping Design and Build Your Outdoor Kitchen
Call us if you live in Lake Norman or the neighboring region and are looking for a hardscape company with an outstanding reputation for building custom outdoor kitchens. Maxwell Landscaping has been known as the company to go to for designing and installing outdoor kitchens for more than ten years. Our team guarantees high-quality materials, careful attention to detail and expert craftsmanship for ideas that fall under any budget. Contact us today for a consultation.