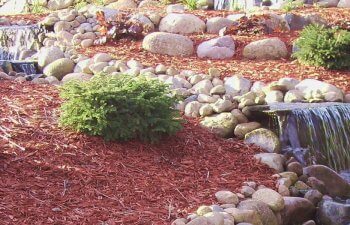 The term "hardscapes" is often misunderstood when it comes to landscape design. Many home and business owners think of hardscapes as specific types of features, such as water fountains and fire pits.
However, with your imagination and the skills of a hardscaping artisan, you can create beautiful hardscapes that reflect your needs and personality. In essence, hardscapes are any landscape features that are not organic in nature.
Designing Hardscape Features
Hardscapes are a matter of aesthetics and functionality. When you are considering features to include in your landscape design, think about how you want to use your garden. Whether you use the space for visual stimulation or entertaining guests, hardscape features are important.
Calculate the amount of space you have to work with, and then consider the footprint of your potential hardscapes. A cluttered landscape is not an attractive or relaxing place to spend your time. Although space may dictate the size of your hardscapes, the right contractor could make your design ideas work.
Hardscape Installation
Having work carried out on your premises can become disruptive to everyday life. Working with a hardscaping company that values privacy is important. The next issue is ensuring that hardscapes are built to your exact specifications. Once the work is done, disputing any issues can prove laborious and there is no guarantee you will get a favorable result.
Communication is key when it comes to installing hardscapes. When you reach out to a company, make sure there are clear lines of communication available throughout the project. At Maxwell Landscaping, we take great pride in ensuring customer satisfaction.
Call our offices today to discuss your hardscaping plans and get tips on design and installation. We are committed to working with customers to produce the best landscaping outcomes in North Carolina.