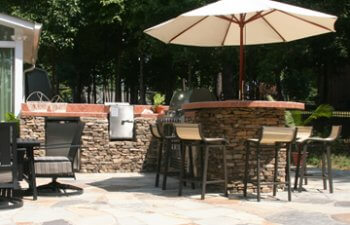 Southern residents have an advantage over our northern cousins; we can enjoy our outside spaces for much of the year. If you thought it was too late for outdoor home improvements, think again! Fall is a great time in Lancaster to make sure you have an easy space to entertain and relax when we have those warmer days this fall, winter and spring, as well as next summer.
Great Fall Projects to Create an Awesome Patio
At Maxwell Landscaping, we're full of ways to add to your current unused or drab summer patio space. Combine landscaping with hardscaping for a complete look. Here are a few tips for creating a perfectly beautiful, all-season entertainment space:
Install a Pergola –

Even homes without a "shady side" can add a cooler place out of the sun for summer relaxation. Better yet, a pergola with sheeting or canvas covering also adds some protection from rain, hail and even snow. Having a pergola provides more options for decorating with hanging plants and mobiles. Hang festive lighting from the pergola rafters for evening ambiance.

Firepit – Integrate a brick or stone firepit area just outside of the pergola into your patio ground surface. Make sure to leave room for chairs or benches.
Outer boundaries

– Add walls or boundaries to the edge of your pergola or patio areas by hanging sheer curtains or planting bushes, trees or hedges outside of the pergola. Create privacy and add natural barriers to define your space. Low retaining walls could double as the housing for small herb or flower gardens as well as adding boundaries to your entertaining space. Some combination of all of these ideas presents many creative possibilities. 

Waterfalls and ponds

– Add a calming water feature to your new private area. Shaded ponds under a pergola develop less algae than in sunny areas, making them lower maintenance. If they are deep enough, they can house fish, which survive easily through the winter months.
Maxwell Landscaping serves Lake Norman and the surrounding areas, providing a variety of creative services to turn the outside of your residence or business into a warm and welcoming place. Features such as firepits, fireplaces, brick and stone barbecues and other hardscape projects are easily combined with our professional landscaping designs, materials and execution. Have a project you want to finish in time for the next season? Give us a call or go online today!