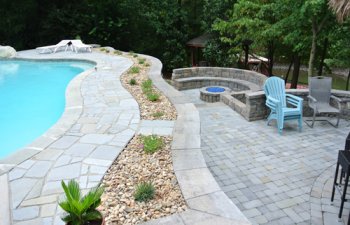 With large numbers of people working from home or furloughed during the COVID-19 emergency, finding things to pass the time is tough. Many homeowners are seeing their surroundings in an entirely new light. Outdoor spaces, especially, are under greater scrutiny.
If you are adhering to social distancing recommendations and staying at home, outdoor spaces are essential for relaxing and a change of scenery. Dull landscapes don't exactly inspire happiness and comfort. With all that extra time on your hands, perhaps now is the time to consider upgrading your hardscapes.
Stone Hardscapes
Stone hardscapes add elegance to any landscape. Maxwell Landscaping has a team of artisans who can realize your vision. Having a comfortable and relaxing outdoor space is important for psychological well-being. Our stone hardscapes can transform your landscape with awe-inspiring fire pits, paving, steps, patios, porches and poolside areas.
A new look for your landscape will break the monotony of being at home for an extended period of time. You can choose the features that will most benefit your family. At Maxwell Landscaping, we specialize in custom landscape and hardscape projects. The work that we do is always customer-guided.
Tailored Outdoor Living
Outdoor living is more important than ever before in the midst of a pandemic. You can practice social distancing in the comfort of your own property. Adding hardscape features that are both practical and aesthetically pleasing will create a more relaxing space. The world may be in turmoil, but life must go on. An upgraded landscape can help you and your family remain calm and optimistic during these troubling times.
If you would like to add or change hardscape or landscape features, Maxwell Landscaping can help. Call our offices today to discuss your needs with a specialist contractor.