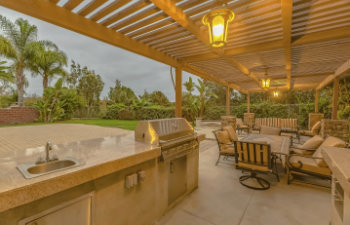 When embracing the beauty of the great outdoors, what better way to do so than by having your own outdoor kitchen? Imagine hosting memorable gatherings with friends and family, all while enjoying the fresh air and stunning scenery.
Maxwell Landscaping is the go-to company in North Carolina for creating exquisite outdoor kitchens that seamlessly blend design and functionality.
Installation Expertise
With years of experience in landscape design and construction, Maxwell Landscaping is dedicated to providing top-notch outdoor kitchen installations.
Our team of skilled professionals understands the unique challenges and opportunities presented by North Carolina's climate and terrain. Maxwell Landscaping's installation process begins with a thorough consultation to understand your vision, needs, and budget.
We meticulously assess your outdoor space, considering sun exposure, wind direction, and landscape elements. This attention to detail ensures that your outdoor kitchen harmoniously integrates into the existing environment.
Design Innovation
Maxwell Landscaping takes pride in our ability to create outdoor kitchens that are not only functional but also visually stunning. Our design team brings creativity and expertise to every project, ensuring that each outdoor kitchen is unique and tailored to the client's preferences.
In North Carolina, where the weather can be unpredictable, Maxwell Landscaping understands the importance of using durable and weather-resistant materials. We skillfully incorporate elements such as granite countertops, stainless steel appliances, and high-quality cabinetry that can withstand the test of time and the elements.
Whether you prefer a rustic charm or a more contemporary aesthetic, Maxwell Landscaping can execute any design style flawlessly. Considering every aspect of the outdoor kitchen, including seating areas, lighting, and landscaping, we create a cohesive and inviting space.
Outdoor Cooking Experience
One of the primary goals of an outdoor kitchen is to elevate your cooking experience. Maxwell Landscaping ensures that every aspect of your outdoor kitchen is optimized for culinary excellence.
Collaborating with professional chefs to understand the ideal layout, workflow, and equipment placement necessary to create a chef-grade cooking experience right in your backyard is recommended.
We meticulously plan the placement of grills, ovens, sinks, and storage areas to meet your specific cooking needs. Partnering with the design team, our specialists create functional workspaces, ample prep areas, and seamless connectivity between cooking and socializing zones.
Embracing Nature
Given North Carolina's picturesque landscapes and pleasant weather, an outdoor kitchen is ideal for connecting with nature. Maxwell Landscaping incorporates elements that accentuate the natural beauty of your surroundings.
Strategically selecting plantings and landscape features complementing your outdoor kitchen creates a harmonious blend of artificial and natural elements. The result is an inviting sanctuary that encourages relaxation and enjoyment while immersing yourself in the beautiful surroundings.
In conclusion, if you reside in North Carolina and dream of having an outdoor kitchen that seamlessly combines design and functionality, Maxwell Landscaping is the company to trust.
Our installation expertise, design innovation, focus on the cooking experience, and embrace of nature make them unparalleled in the industry. With Maxwell Landscaping, you can transform your outdoor space into a jaw-dropping oasis where culinary delights and cherished memories are made.