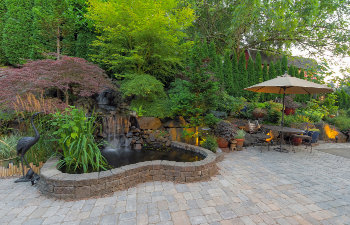 A certain magic happens when you step onto a beautifully crafted stone patio. It's like nature's embrace, welcoming you to bask in the tranquility of the outdoors while being surrounded by the people who matter most.
If you dream of transforming your outdoor space into a captivating retreat, look no further than Maxwell Landscaping. Our expertise in creating stunning stone patios is unmatched, and we're here to turn your vision into reality.
We understand the importance of outdoor living at Maxwell Landscaping, especially in a picturesque location like Huntersville. Our dedicated team of hardscape designers is committed to tailoring every design plan to your specific needs.
Cozy Outdoor Spaces
We can bring any vision to life, from cozy, intimate settings to grand and elaborate layouts. Your outdoor space is a blank canvas, and with the right choice of materials and design, it can become a seamless extension of your home.
Our natural stone patio experts take pride in their craft; your satisfaction is our top priority. We value your time, space, budget, and expectations. With Maxwell Landscaping, you can expect the finest craftsmanship and an exceptional experience from start to finish. Our commitment is to exceed your expectations on every aspect of your stone patio project.
Stone Patio Choices
When it comes to materials, Maxwell Landscaping offers a breadth of options to suit your style and tastes. From the timeless elegance of Tennessee Flagstone and Tennessee Fieldstone to the rustic charm of native North Carolina stone, we have the expertise to work with various natural stones.
Additionally, we offer choices like Techo-Bloc and Belgard for those seeking innovative alternatives that still exude the beauty of natural stone. You're in luck if you reside in Huntersville, Cornelius, Mooresville, or the neighboring areas. Maxwell Landscaping is your trusted partner for creating and installing exceptional natural stone patios. Our proficiency runs deep, and we bring creativity and precision to each project we undertake.
One stone option that stands out is flagstone, known for its captivating look and durability. A flagstone patio adds character to your outdoor space. It provides a resilient surface that can withstand the test of time and the elements. When you choose Maxwell Landscaping, you're not just investing in a patio – you're investing in an enduring masterpiece that harmonizes with nature and enhances your lifestyle.
So, you're ready to transform your backyard into a haven of comfort and elegance. In that case, Maxwell Landscaping is here to make it happen. Let us bring your stone patio dreams to life and experience the enchantment of outdoor living like never before.
Contact our Stone Patio Contractors at Maxwell Landscaping for a free estimate. Get ready to witness the power of nature and design molding the world around you. Expect the best with Maxwell Landscaping because we deliver exceptional results on every project.