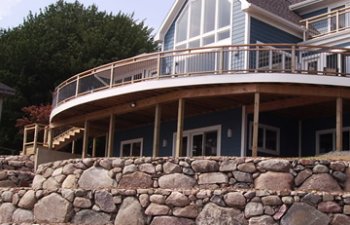 While retaining walls often have a negative connotation, they don't have to be unsightly and they can certainly serve a very important purpose of protecting your landscape. Retaining walls come in various sizes and materials. Regardless of whether you have a three-foot natural stone retaining wall or a twelve foot wall made of timbers, all retaining walls can help manage erosion and water runoff that could otherwise damage your property or your home.
Signs You Have an Erosion Problem
Erosion occurs when there is a steep hill on your property or where there is excess water runoff. Drainage issues often develop over time. You can tell if you have erosion by looking for the following signs in your yard:
Exposed tree roots
Exposed rocks
Bald spots (no plant or grass growth)
Migrating mulch
Clumps of soil, grass and debris at bottom of slope
What Can a Retaining Wall Offer?
Retaining walls don't have to be an eyesore to your property. In fact, they can be a welcome addition to your landscape design and beauty. Retaining walls can be constructed in a variety of shapes and materials including timber walls, interlocking blocks, poured concrete or natural stone.
A well-designed and constructed retaining wall can provide the following benefits:
Create more level space to utilize and enjoy
Manage water runoff from rainfall
Provide additional seating for your family and guests
Protect flowers, trees, plants and other landscaping elements from erosion
Protect your house foundation from drainage issues
Call a Retaining Wall Expert
At Maxwell Landscaping, we understand the importance of retaining walls in terms of the health and appearance of your landscape. However, we also recognize the value in customizing each retaining wall to meet your personal needs, style and budget. Call our experts today for top quality retaining wall design and construction in Mooresville.
Contact our team of professionals to give you an estimate and discuss what remodel inclusion of a retaining wall can do for your yard. We can find the best fit to optimize your yard and keep natural erosion and rainwater from impacting your plants or greenery.