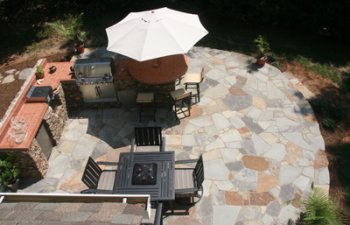 A hardscape can become an integral part of your landscape. Features such as raised plant beds, outdoor fireplaces and custom built ovens can add both aesthetic and practical improvements. The problem is, not all contractors are able to fully realize the vision you have for your front or back yard.
In many cases, hardscapes do not blend well with surrounding features. Everything from placement to the materials used, including color contrasting, are important considerations when choosing hardscapes. Only a true artisan has the skills and experience to do your project the justice that it deserves.
Low Cost Hardscapes
While there is no rule that states hardscapes should cost a fortune, it is important to think about the implications of underpaying. If a hardscape feature is large, complex in design and requires the use of expensive materials, it makes sense to be wary of contractors who promise to complete work at a significantly lower cost than the industry average. As the old saying goes, "You get what you pay for."
Feature Placement
Ultimately, feature placement is your sole decision. However, sometimes a feature placement does not make sense for several potential reasons. For instance, installing a hardscape barbeque in a roofed space without ventilation would end in disaster. For best results, you should be willing to work with a hardscape specialist who can provide expert advice and guidance. It may require a certain level of compromise, but you are more likely to be happy with the results.
Materials & Artisanship
Even at the low end of cost, you are likely to pay a pretty penny for most hardscape features. Getting value for money is therefore a major consideration. The materials used combined with the level of artisanship is what truly makes for a great hardscape project.
At Maxwell Landscaping, Inc. we can deliver on all your wants and needs. Call today to learn more about our services!