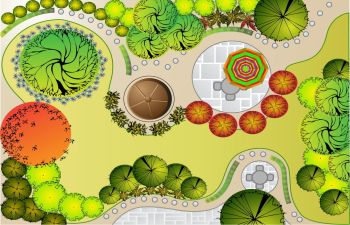 An expansive landscape is a great feature in any home, but abundance of space also has drawbacks. When you have a large lawn that is bordered by plants, shrubs and trees, adding more flora means extra maintenance and gardening. So, what's the best solution?
Hardscapes are ideal for breaking up a lawn and garden by creating balance between physical and natural elements. You won't have to take on additional gardening tasks and your yard can benefit from functional features for all the family.
Family Hardscape Ideas
Families typically prefer landscaping features that are designed to make outdoor living spaces enjoyable. To that end, swimming pools and play areas are welcome additions. Another consideration for improving the functionality of a larger space is an outdoor kitchen.
Cooking and serving for family and guests with an outdoor kitchen is convenient and practical. You can continue to keep an eye on your little ones or keep up with conversation, without having to constantly pop inside to check on food.
Outdoor Center Pieces
Center pieces create interesting focal points but are also a way to break the uniformity of a landscape. These hardscape features can be either static or functional in nature. From ornate and artistic hardscapes to water fountains and fire pits, you can reimagine the design of your landscape to suit personal or family preferences.
To introduce other elements of nature to your landscape, you may wish to consider features such as a pond or arbor. It is possible to make these additions low maintenance with the right design elements. An experienced hardscaping company can help you make the right choices.
If you have hardscape ideas for a larger lawn in or around Maiden, NC, call Maxwell Landscaping today. We can help you bring all your ideas to life.