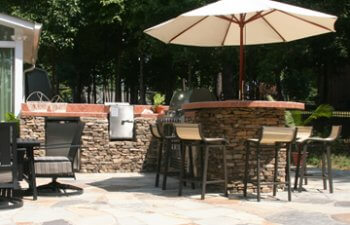 As the summer days turn to wind and rain, it can sometimes feel like the time with our patio is coming to an end; but that doesn't have to be true! A four-season patio can be a game-changer when it comes to curbing that winter depression or hosting the perfect Christmas Eve Party. Here at Maxwell Landscaping, we are happy to help you prepare for the perfect patio in any season. Here are some tips and tricks to make the most out of your patio in the cooler seasons to come.
Brighten Up Your Winter with Outdoor Lighting
As the days get shorter, some good lighting can be all you need to brighten up your mood. Whether you add light fixtures for aesthetic purposes or to prolong the hours you get to spend outside, setting up lighting outside can make a huge difference in your patio's overall functionality and appeal. Good lighting can also act as an extra form of security and safety from intruders or unwanted wildlife.
Cleaning Up Isn't Just for Springtime
Get ahead of your landscaping maintenance now before it gets too cold. As temperatures drop, your plants will start to die. Picking weeds and bringing in your summer plants now will give the plants you want to keep alive a better chance at survival, and allow more space for you to enjoy as the seasons change. While major cleaning may feel counterproductive, spraying off your deck and patio doesn't hurt in any season and can save you from the buildup of dirt and oils during the wet months to come.
Keep Warm with an Outdoor Fire Element
It's not too late to install an outdoor fireplace! This extra ambiance and heat can be the perfect addition to keeping your patio comfortable all year round. The warmth and beauty a fire element can add to your landscape will draw in friends and family and create a perfect space for bonding around the fire.
Contact Us!
Let our team here at Maxwell Landscaping bring your winter wonderland patio dreams to life. Our team specializes in hardscape and outdoor living. We will be more than happy to help get you the materials you need, get them installed and have your backyard looking like an oasis all year round. Call us today or stop by our landscaping center in Maiden, North Carolina.