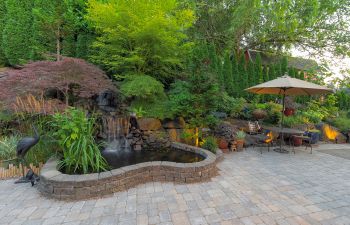 You have been living in your house for how many years and your landscape still has the contractors' special for landscaping? Perhaps now is a good time to have your yard professionally hardscaped for a future of beauty to appreciate. Our homes are so very hard to come by and harder still to afford. Make your home an oasis from the crazy world and a place you really enjoy.
Hardscape vs Landscape
Non-living landscape features such as paths, patios, retaining walls, drainage designs and pergolas are the skeletal features of your landscape. They don't change and move over the years. A hardscape is the first of your landscape design to go in and is vital to get it right the first time. It will improve the look, feel and function of your home landscape.
Making Decisions
Ideally, how would you like to use the space? You are going to be paying taxes for years to come on every inch of your yard. What would you like to do to enjoy it? Do you have children or pets to consider? Do you like to entertain at home? Today's homes reflect the occupants' unique lifestyle.
How many people will be using these features? For example, if you entertain, do you invite just a few people over or a lot of people? This will help you determine the size of the features you need. The measurements of your interior rooms will help you envision what size you will need for some features.
Take a hard look at your existing lawn. Are certain areas ideal for a particular use? What would have to be done to make an area work for a particular use? Do you have drainage issues that need to be addressed first? How do you use each egress from your home? If a particular door gets a lot of use, it makes sense to make more accommodations for that space.
Budgeting
Now comes the hard part – you must determine a budget. This is where you need some expert help. No one knows how much something costs without asking. Now that you have a basic idea of what you would like your yard to do, you have a place to start. Unless you have some expertise, you need professionals to help you determine the realistic construction options and costs for your project.
This is where Maxwell Landscaping, Inc. can help. Once you have an idea of what you want and where, their experts can help you with design and determine the true expected costs to allow you to budget at a pace and outcome you will be pleased with. If you have any questions, call for an appointment at 704-469-5766.