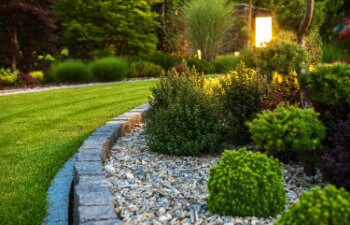 Homeowners often design landscapes around natural features such as flowers, plants and trees. These elements can create a stunning outdoor space. However, adding hardscapes can further enhance aesthetics and functionality.
Any non-living feature of your landscape is considered a hardscape. Structures made of stone, concrete, brick or wood typically serve a functional purpose. Examples include pathways, patios, walkways, the poolside and outdoor kitchens.
Enhance Functionality
Relaxing in the garden is a great way to spend the summer. However, functionality adds to the enjoyment of family and friends. For example, you can add a patio for entertaining guests, pathways to navigate the landscape or retaining walls to create a tiered outdoor space.
Utilizing your landscape adds value to your outdoor experience. You can increase accessibility by adding pathways. Green spaces are protected, while functional hardscapes allow you to make more of your garden. You can create dining, relaxing or playing areas through the effective integration of hardscapes.
Extend Living Space
One of the main reasons to add hardscapes is to create outdoor living spaces. For example, hosting gatherings in your garden will benefit from having an outdoor kitchen. Additionally, areas for relaxing or meeting create comfortable and inviting spaces.
When the sun goes down, having a firepit allows you to extend your time outdoors. Some hardscapes will enable you to enjoy your landscape throughout the year. Overall, expanded living spaces give you greater access and utilization of your property.
Increase Visual Appeal
A landscape that incorporates hardscapes is visually enhanced. You can play with textures, colors and building materials to create your dream outdoor spaces. Focal points add elements that lead the eye, clearly identifying the function of each area.
You can complement and enhance green spaces by adding hardscapes. Unique features can create uniformity or contrast, depending on your personal preferences. With the right additions to your landscape, you can also increase your home's curb appeal and value.
Low Maintenance and Longevity
Hardscapes are typically built from durable materials that are low maintenance and long-lasting. Weather resistance is an important consideration when choosing hardscapes. However, you can rely on Maxwell Landscaping to guide you through your choices, design and installation.
Call Maxwell Landscaping today to learn more about the benefits of adding hardscapes to your Maiden, NC, property.