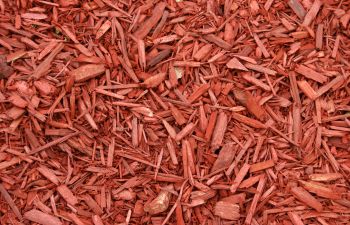 Mulching is a valuable addition to any horticulturalist's calendar. You will achieve brighter, healthier growth to your bedding plants and shrubs. Applying mulch creates an attractive border for your flowerbeds and tree line without incurring significant expenses.
At Maxwell Landscaping, we offer a range of colored mulches to truly personalize your outdoor area. Choose from brown, black or red mulch to complement your botanical color scheme and bring a unique flair to your garden. Our mulches are colored using an entirely non-toxic process and are safe for use around children and pets.
Aside from being aesthetically pleasing, there are several key reasons that mulching benefits your garden.
Improves Soil Quality
Mulch is composed of organic matter that is irresistible to beneficial insects like earthworms. As these bugs (assisted by microbial life forms) process the mulch, it is broken down into the soil. This increases the nutrient quality of the earth and promotes future plant growth.
Preserves Moisture Content
Watering your plants is both time consuming and laborious. Excessive need to water is a waste of resources and could unnecessarily increase your utility costs. Mulching helps reduce drainage and runoff, meaning your plants are able to access the moisture they need for longer periods of time.
Reduces Weed Growth
Weeds are an unsightly addition to any garden. After watering, pulling weeds is a back-breaking and monotonous task that few gardeners enjoy. A layer of mulch limits the growth of new weeds, allowing you to enjoy a pristine and tidy flower bed with minimal effort.
Soil Temperature Regulation
Maiden, North Carolina, generally enjoys beautiful summers, but temperatures can be variable in the spring and autumn. Some plants are very sensitive to changes in temperature, especially the newly planted variety. Mulching helps keep soil temperature regulated, providing delicate roots and stems with protection from the elements.
To maximize the benefits of mulching, it is vital that it be applied at the correct time of year to take advantage of soil temperature and wetness. At Maxwell Landscaping, we can take the stress out of mulching for both residential and commercial clients in Mooresville, NC. Contact us today for more information.