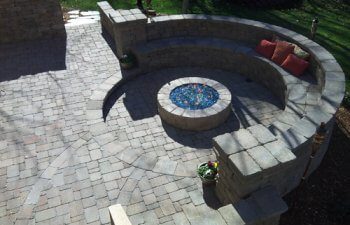 Is your poolside experience dull and boring? Perhaps you need to spice things up a bit by creating an outdoor living space. The pool is a place to enjoy the day when the sun is out. However, there are plenty of other activities that compliment that summer lifestyle.
Hardscapes are great features for improving the aesthetics and functionality of your yard. Playing in the pool is hard work, so designing your outdoor living features should center on getting the most out of those experiences. This can be achieved in several ways with custom hardscapes to suit your needs.
Outdoor Kitchen
When you work up a hunger or thirst while swimming or playing in the pool, the last thing you want to do is traipse water through your home to grab a snack or drink. Designing an outdoor kitchen that contains all the provisions you need to enjoy the day is a great investment.

While the kids are playing in the pool, parents can cook up a storm with a customized outdoor oven or barbeque. With running water and a working refrigerator, you won't have to worry about your home getting flooded because of hungry or thirsty children.
Additional Water Features
Playing in the water does not have to be confined to the pool. Kids love playing in features such as water fountains or customized sprinklers. These additions to your yard will become an extension of the pool and prevent kids from becoming easily bored. There is also no rule that states adults cannot join in on the fun.
Choosing poolside hardscapes ultimately comes down to personal taste and the needs of your family. If you can imagine it, Maxwell Landscaping can likely create your dream features. Call our offices in North Carolina today to discuss enhancing your poolside experience.