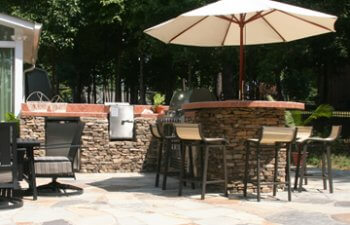 Many new homeowners have no experience of what makes a functional  landscape. The general assumption is that a lawn, plants, shrubs and trees are the main features. While you can have a beautiful landscape that is entirely designed with flora, you may be doing your home a disservice if hardscapes are not part of the picture. There are several ways to incorporate hardscapes into your landscape and make your backyard more livable.
Outdoor Home Extension
If you think of a landscape as an important outdoor extension of the home, hardscape installations make sense. Consider hosting parties for friends and family during the summer months. How much time do you think your guests will spend outside?
If the guests are enjoying spending time out in the sun and the host is stuck in the kitchen preparing food and drink, you are missing out on all the fun. A landscape kitchen is a great feature for homeowners who enjoy outdoor entertaining. You get to create memories with family and friends without compromise.
Firepits, Fans & Water Features
It's fun to introduce the elements to your landscape. You already have the earth so all you need are hardscapes that represent fire, wind and water. Firepits are an aesthetic and practical hardscape feature that will keep you warm on a cool night. Similarly, water features are an attractive addition to your landscape that can also serve as part of an irrigation system.
When the weather starts heating up, you can even bring your AC outside to stay cool while enjoying the sun. A reputable hardscaping company will listen to all your ideas and create solutions. At Maxwell Landscaping, we understand that hardscape features are very personal to each homeowner. If you have a vision for a landscape that is both aesthetically appealing as well as practical, our team can deliver.
For a Lake Norman landscaping company that is as passionate about your project as you are, reach out to Maxwell Landscaping today.