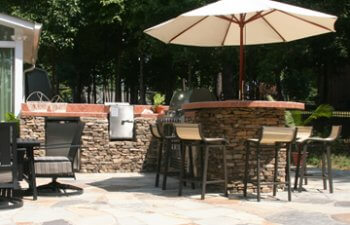 Spending time outdoors is always better when aesthetics match the level of comfort. A great way to combine the two is by installing hardscapes that are attractive and functional. Whether you are an individual or family, Maxwell Landscaping can create your perfect garden oasis.
If your yard is set to become the place for hosting family and friends this summer, now is the time to make it an inviting space. From the garden to the patio, there are plenty of solutions for improving outdoor living with help from Maxwell Landscaping.
Kids Play Area
At Maxwell Landscaping, we have the skills and experience needed to help you cater to all the family. Kids love playing outside during the warmer months, so consider allocating an area of your yard to an activities space. You provide the ideas and we will design and implement the hardscapes needed for a kid-safe environment.
Patios & Seating Areas
A place to sit and relax in the sun is essential to outdoor living. Maxwell Landscaping can create functional and beautifully designed patios and lounging areas where you most get the sun. We can work with concrete, wood and any other suitable materials you can imagine to deliver excellent patio and seating solutions.
Walkways & Retaining Walls
Do you need walkways to connect the various features of your landscape, or retaining walls to add additional elements? Trust in Maxwell Landscaping to implement your design ideas with high-quality craftsmanship and attention to detail. We can bring all the areas of your landscape together in spectacular fashion.
Landscape Design Support
If you have ideas but are not sure how to make them a reality, Maxwell Landscaping is on hand to offer support and guidance. We complete landscaping and hardscape projects for homeowners in and around Lake Norman with unwavering dedication to perfection.