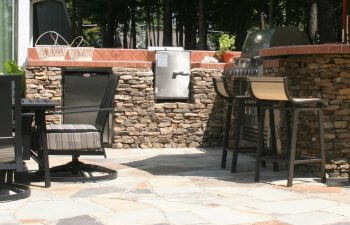 Hardscaping Projects for Outdoor Living
Do you enjoy spending time in your backyard? If not, hardscaping can help to enhance your experience. There are plenty of features that are both functional and aesthetically pleasing to choose from. Design, orientation and blending in with the surrounding landscape is important. However, an experienced landscaping company can transform your dreams to reality.
Outdoor living is an important consideration for both individuals and families. Being stuck in the house during leisure time is not ideal. A dull and lifeless backyard doesn't exactly inspire the desire to spend more time outside, either. With hardscaping, you get to create the type of environment that most suits your mood.
Create a Personal Oasis
A personal oasis is a space that you can customize to suit your needs. Do you like barbequing? A built-in fire can provide both heat and a place to feed your guests. Family and friends will appreciate the ambience of your landscape.
Think about the features that would most improve your outdoor experience. Positioning is important, because getting it wrong can throw off the overall appearance of your landscape. Orientation is important for a number of features, including fires. A professional hardscaping expert can help you design your landscape with orientation and other important considerations in mind.
Custom Hardscaping Features
How do you want to live your outdoor life? The choice is yours, and most designs are feasible. Maxwell Landscaping has a team on hand to help you realize your vision for an outdoor space that delivers. Practical features are in high demand and we can produce a visually spectacular landscape that will make spending time outside a more pleasurable experience.
Call Maxwell Landscaping today to learn more about how we can help you complete your dream project. Outdoor living should never leave you wanting. Our team is here and ready to answer your questions today.