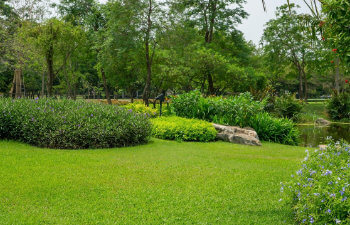 For some, a backyard garden is for entertaining. For others, a home garden is a private retreat for personal time. It does not matter if you have a large property or a small one, you can have an exclusive oasis in the Lake Norman area.
Not everyone is cut out to do everything themselves. Do not think that you must not have a green thumb just because you haven't been able to turn your backyard into a magazine-worthy example. Not everyone can design clothes; yet somehow people manage to come out of the house dressed.
Getting started can be the hardest part. What you need is a personalized blueprint to follow and someone to help get you started.
What You Need for a Blueprint
First, start with your personal list of requirements. Perhaps you want a koi pond or a place for children to play or a perch to observe birds.
Second, gather pictures of the types of gardens you admire. Do you fancy lots of green or do you prefer blasts of color? Straight lines, or do curves with surprises around corners intrigue?
Third, you need to answer one question: how much maintenance are you willing to do to keep up such a space? Will you do this yourself or hire it out?
Armed with these three things, you are on your way to having your own Lake Norman retreat.
Few Gardens are Built Overnight
Most gardens are developed piece by piece over years. Look at your garden project only in terms of one-year increments once the overall blueprint is created. Finances must be procured and trees and shrubs need time to get established.
Landscape designers start with the bones or hardscapes of a garden. It requires the heaviest work. This is best outsourced to those with the heavy equipment to install. Reach out to Maxwell Landscaping to draw up a basic plan specific to your home and dreams. Then year after year, add to your yard one piece as your budget allows until all your foundation parts are established. By then, it will be so much easier to envision and create your dream Lake Norman oasis.