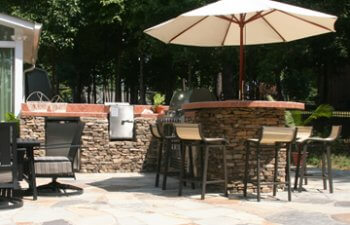 Your outdoor kitchen area is a great addition and investment. This functional insertion to your backyard will enhance its beauty and elegance, as well as allow you to engage in festivities with family and friends. You will want your kitchen area to look its best for upcoming summer parties and BBQs. It pays to properly maintain your outdoor kitchen.
Clean Stainless Steel Properly
Stainless steel resists corrosion due to its high reliability, but you should be careful during everyday use. Following the grain is important for cleaning. Using simple soapy water is a gentler option than harsh cleaners. The surface should be completely dried to avoid water stains.
Metal, steel or hot items should not be left on your stainless steel for an extended period. Failing to do so could lead to corrosion. The smooth finish of stainless steel can be damaged by abrasive cleaners or harsh chemicals.
Outdoor Grill Appliances
Using a hard-bristle brush, scrub off the inside grill plates after each use. The leftover heat after grilling is a benefit, helping to get any crusted-on food easily removed. You should be brushing your grates clean after every cookout.
Protect your grill against the outside elements with an appropriate cover, and it will last longer. To ensure moisture cannot pool on the surface, it is important to choose the right type of cover. If this occurs, the surface can become damaged and deteriorated.
Clean Those Countertops
 Keep your counters clean by wiping them down regularly. Be aware that granite or stone counters are more susceptible to staining due to their porous nature. It is best to remove stains as quickly as possible. Using soap and water, along with tile cleaner, will help clean ceramic tile countertops. Scrub the grout with a toothbrush after using the cleaner to make it shine.
If you have outdoor lawn furniture, you can occasionally wipe them down with simple dish soap and water. Covering them up and removing the cushions will save them over the harsh winter months.
Remember Maxwell Landscaping in Maiden, NC for all your outdoor kitchen construction needs. These experts can come out to design the functional versatile outdoor kitchen of your dreams.