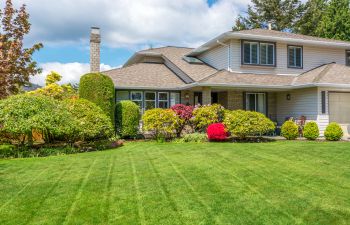 Your landscaping choices add so much to your home. The right landscape can add curb appeal to your home and create an outdoor paradise to enjoy for years. With so many choices in design and with unlimited plant choices, it can be difficult to know how to make your home into the showplace you desire. The perfect landscape requires the knowledge of an experienced design team.
Curb Appeal
Did you know that curb appeal increases your home's value? It's true! According to the National Association of Realtors, high curb appeal homes fetch around 7% more than homes without eye-catching landscaping. But a higher home price is only one reason to add landscaping to your home. A lush lawn and beautiful landscaping have a calming effect and can make you want to spend more time in your own private oasis.
Landscape Design Tips
Before you begin digging holes and adding plants, it is important to have a plan in place. Here are some tips to achieve the best design:
Look at your house. Your landscape design will be best if it compliments your home. Your goal is to make your landscape look like an extension of your home.
Size matters. If your home is large, your landscaping should match. The alternative goes for small homes. This will maximize the wow factor.
Hardscaping is the key. Just like the perfect flower or tree, a well-placed hardscape such as a bench or water feature element adds a focal point to your lawn.
Colors should coordinate. Pay attention to the colors on your home's exterior. Look for landscaping elements that follow your color pattern.
The Professional Advantage
The landscaping design experts at Maxwell Landscaping know how to turn your vision into a reality. The team has the experience to develop a personalized plan that will not only accent your home, but provide you with a relaxing atmosphere, perfect for entertaining or enjoying on your own.
If you are ready to take your curb appeal to the next level, give Maxwell Landscaping a call today at (704) 469-5766 or visit us here. We look forward to helping you achieve your hardscaping and landscaping goals!