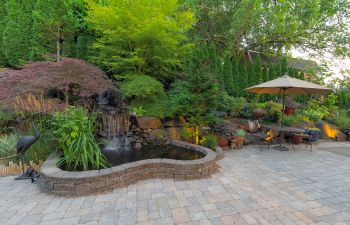 The summer weather provides the perfect opportunity to take advantage of your outdoor space. Beautiful landscaping can benefit your pets as well. There are things you can do to help make your yard safer and more enjoyable for your pets this summer. Here are three tips to make your landscaping design pet-friendly.
Choose Pet-Friendly Landscaping Materials
When creating your landscaping design, it is crucial to choose pet-friendly materials. Some materials may be toxic to pets if ingested. Concrete, smooth stone and river rock can be excellent choices to keep your pet safe. You may want to be careful about choosing the right brand if you decide to install mulch or bark chips.
You may also want to pay attention to the heat retention in the landscaping materials you choose. Materials with poor heat retention can stick to your pet's paws and burn their sensitive padding. A landscaping professional can guide you on the best products to use.
Install Water Hardscape Features
One great way to make your landscaping design more pet-friendly is to install water hardscape features. Fountains and ponds can provide a convenient place for your pet to grab a drink on a hot day. Make sure that the hardscape features you choose are easy to get in and out for your pet. Brick, concrete and flagstone walkways are ideal choices to protect your pets during the summer heat.
Create Secure Boundaries
Even the most obedient pet can be tempted to wander off into a dangerous situation. Proper fencing can help keep your pet secure. You may also want to consider sectioning off areas of your yard to keep your pet away from gardens or hazardous plants. Make sure to check these secure boundaries for your landscaping design on a regular basis for sturdiness, cracks and signs of digging.
High Quality Pet-Friendly Landscaping Design
Creating a pet-friendly landscape design can help your pet enjoy a fun and exciting space all summer long. Maxwell Landscaping provides high quality landscaping design services to fit your lifestyle. Expert specialists are available to serve you with impeccable service and exceptional customer service. Call to receive an estimate on how to make your landscaping more pet-friendly today.