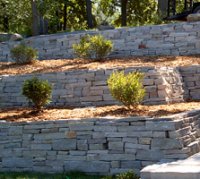 Many homeowners think strategically when improving their property. The right upgrades will last a long time and increase the property's value. More equity in the home increases their borrowing power and can pay off in the future if they choose to sell the house. One property upgrade homeowners should consider is retaining walls as part of their landscaping.
Flood Control
Trees and shrubs with deep roots help fix the soil in place and prevent soil erosion by wind or water. Without these elements, soil erosion happens faster, and it can take time for plants to grow to a size large enough to be effective against it. A retaining wall can prevent soil from breaking down, protecting your home's foundation and other structures. Well-designed retaining walls control water drainage, especially during floods, further protecting the ground.
Aesthetic Appeal
There's no denying the beauty of a well-placed retaining wall as part of a home's larger landscaping design. They make for a great focal point or can accentuate part of the home that needs more visual impact. Either way, these walls are an excellent design element when used correctly.
Add Functional Space
If your lawn has a steep slope, making it less functional, a retaining wall can create a flatter surface. This is one of the most common reasons homeowners consider retaining walls when choosing a new landscaping design for their property.
Create Property Boundaries
There's nothing more definite when separating two properties than a wall. A stone one is more permanent, requires less maintenance than a wood or metal fence and is much harder to move. Once a stone retaining wall has been installed along a property line, it creates a physical, visual boundary.
Add Structural Support
One or more stone retaining walls can help support the property, not just from soil erosion but also from landslides, earthquakes, floods and other unexpected natural disasters. No one can predict when these things might happen or how severe they might be. However, having the support of retaining walls in the right places may prove beneficial during some events.
Call Maxwell Landscaping today to learn more about retaining walls and how your property may benefit from them. Our experts can discuss the available options and how they can increase the value of your home.