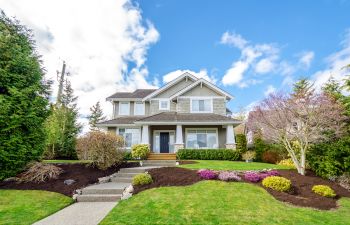 Have you ever looked at a landscape and felt a sense of disconnect? This is a common issue that is caused by homeowners attempting to introduce new features – usually hardscapes. When making changes to an established yard space, it is therefore important to consider balance and integration.
Adding new features to your landscape is a great way to improve the visual and functional aspects of your outdoor living space. However, doing so with no care for the current design and layout can lead to problems. You may not like the end result and it could serve as an expensive lesson on what not to do with home improvements.
Landscape Balance
When an artisan landscaper looks at your yard space, ensuring that each individual feature is part of a balanced design is paramount. This can be achieved in several ways. Symmetry, color schemes, contrast and the materials used to create hardscapes are just some of the most effective approaches.
Once balance is established, it is not impossible to add new landscape or hardscape features. The trick is ensuring that those features fit seamlessly with their surroundings. This is achievable by ensuring uniformity. At Maxwell Landscaping, we have the skills and experience to complete integration of additional features that will enhance your outdoor oasis.
Functional Landscape Features
Most functional landscape features are essentially hardscapes due to design and the materials used in construction. You do not have to sacrifice functionality for aesthetics when it comes to adding such features.
Maxwell Landscaping has an extensive history of providing our customers with solutions for expanding the scope and capability of existing gardens. Our team can easily integrate your new hardscapes without disrupting the visual flow, balance and symmetry.
Maxwell Landscaping
If you have consulted with a contractor who has not discussed the bigger picture of integration, you may not get the desired outcome from your reimagined landscape. The experts at Maxwell Landscaping are committed to blending every new feature into the established setting.
Call our offices if you have a landscaping project in mind in Mooresville or surrounding areas. We look forward to helping you achieve your goals with strict attention to every detail.