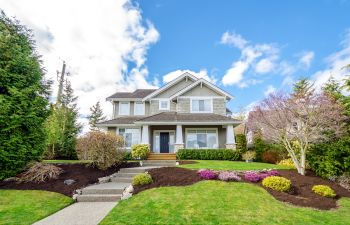 Puddles and pools of standing water are an issue for many residents in the Lake Norman, North Carolina area. Even if you do not experience pooling water, you may notice that your soil is wetter and more boggy than desired.
Standing water and overly wet ground usually indicate a drainage issue. If water is not draining properly, this can cause multiple issues that will affect your ability to properly make use of your outdoor space. At best, your garden will be aesthetically unappealing, but could ultimately affect the structural integrity and value of your property.
Why Is Too Much Water A Problem?
Some may believe that standing water will resolve naturally in your garden, as if plant life will absorb the excess. Ultimately, too much water is devastating to the health of your lawn and plants. Overly saturated soil becomes compacted and shrunken. This prevents oxygen and nutrients from permeating the earth, starving your plants. Over time, roots will rot away, leading to total plant death.
Wet, nutrient-deprived soil will give off a stagnant, foul odor. The smell of any rotting foliage will only add to the overall unpleasant smell. Therefore, even if you are not particularly concerned with maintaining a green space in your garden, standing water will impact your enjoyment of your outdoor space for entertaining and socializing.
Badly drained landscaping will look unsightly and unappealing, as flower beds become swamped and ruts appear in your lawn area. Wet ground will splatter and stain clothes and shoes, and mud will get tracked into your home. Slippery, uneven ground is also a hazard to you and your family, as tripping or falling can cause serious injuries.
Most devastatingly, wet ground will eventually affect surrounding buildings. Damp and mold will begin to appear in your property, potentially affecting health and causing warping in doors and windows. In extreme conditions, standing water can lead to foundations subsiding, which is very costly to repair.
Although the impact of poor drainage can be irritating, disastrous and costly, often the solution is very simple. At Maxwell Landscaping, we are committed to finding the simplest, most cost-effective resolution to your standing water problems. Contact us today in Maiden, NC to arrange for an expert to assess your problem and restore your outdoor space.