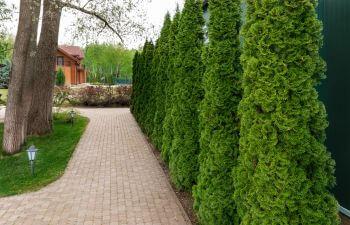 When you spend time outdoors, privacy is often a concern. You want to know that your landscape offers an oasis away from the world. Even if you are friendly with your neighbors, having that alone time is a reasonable expectation in North Carolina.
Creating private spaces on your own property can become tricky. You could completely enclose your landscape, shutting out any view from the street or neighboring properties. Unfortunately, this approach may put you at odds with your neighbors.
As long as privacy installations are legal, you can redesign your yard to however you wish. With that said, it is worth considering good neighborly relations and curb appeal. Having a landscape that looks like a fortress may put off prospective buyers if you decide to sell.
Landscape Fencing
Fencing that is a reasonable height will provide adequate security and privacy. You can create an oasis in a specific area of your landscape with higher fencing. It is possible to do this without obscuring your neighbor's view.
At Maxwell Landscaping, we have extensive experience in designing and installing fencing. Our team will work with you to ensure that your status in the neighborhood remains positive. By assessing the orientation of your yard, it is possible to identify areas that will provide the most privacy with the help of fencing.
Privacy Planting
Trees are a natural way to provide you with privacy in your yard. By strategically planting in specific areas, you can enjoy spending time outdoors without disruption. A secret garden is another landscape feature you should consider for hiding away from prying eyes.
Natural landscape features are versatile and offer countless options for creating private spaces. Maxwell Landscaping can provide advice on tree species and arrangement. Our designer will support you throughout the process of upgrading your outdoor getaway.
Enclosed Patios
If you like to relax outside no matter the weather, consider installing an enclosed patio or seating area. You can entertain guests in privacy, find shade from the sun and keep dry when the weather turns sour. Enclosed seating areas are also ideal for fine outdoor dining.
For more landscape privacy ideas, reach out to Maxwell Landscaping in North Carolina today.