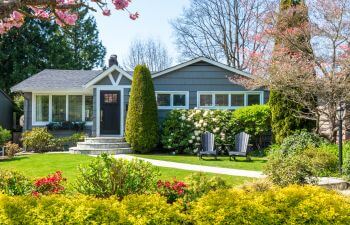 Landscaping and the "Curb Appeal"
Have you ever driven by a house and the first thing you notice is how incredible the landscaping looks? A lawn that is freshly cut, the beautiful placement of shrubs and an artistically designed stone path. This is what is commonly known as "curb appeal."
It's the WOW factor that can draw many eyes to your property, and separate your house from all the others in the neighborhood. It's especially important for those who plan to put their house on the market. Landscaping, if done by the right hands, can certainly increase the value of your property when it comes time for an appraisal.
Landscape Design
Whether you have a design in mind or want to leave it up to our professionals, we will take the time necessary to finish a project to your satisfaction. We offer many services which include: retaining walls, hardscapes, fire pits, fencing and a variety of others. Our experienced artisans will work with you to create a custom design that is both beautiful and unique.
With the combination of North Carolina's natural beauty and a professionally designed landscaping job, your property will demand attention. Making the investment to upgrade your property with a fresh new landscape design is a decision that will leave a lasting impression.
Maxwell Landscaping
Here at Maxwell Landscaping, we have a passion for what we do! Our top priority is to deliver exceptional service to our clients and build lifelong relationships. We take great pride in our work, and make sure we pay attention to even the smallest details.
If you are looking for a landscape that will leave you completely satisfied, then Maxwell Landscaping is the company to hire. What does your next landscaping project look like? Contact us today to discuss it with our staff of professionals and let us help you create something special.