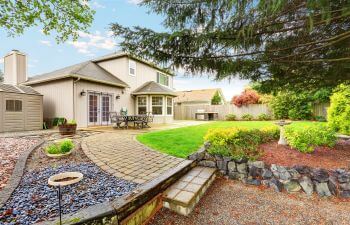 Many homeowners are broadening their living area into the backyard. The winter months are an opportune time to renew your backyard's landscaping.
Now is an excellent time to plan and construct an outdoor kitchen and BBQ pit under a breathtakingly beautiful pergola so that your family can enjoy its benefits when the weather warms up.
Many of our clients ask for these backyard amenities with outdoor lighting so that the party doesn't end whenever night falls. What's more, a backyard pergola provides a perfect place for family and friends to bond under its shade, out of the North Carolina sun.
The professionals at Maxwell Landscaping are your hardscaping experts who can design and construct the backyard of your dreams. Your friends will ooh and ah while they eat, drink and enjoy a luxurious backyard playland by the pool or under the pergola.
Pergolas Are a Perfect Permanent Shade Option
Our landscape architects are changing how people look at their backyard BBQ area. People want to move out of the house when the weather heats up. They want to crank up the grill, relax and unwind over the weekend and all summer long.
A pergola can give you that space with partial shade and dining areas outdoors. Who wants to be stuck inside when it's so warm outside?
Pergolas Make Great WFH Spaces
We can even create a work-from-home (WFH) office space so that you can work outside in the fresh air or by the pool. We can even provide you with outdoor lighting and insect screens to ensure your comfort after dark.
Louvered-roofed pergolas are what's trending for backyard play areas these days. We'll discuss your plans with the building inspector, but typically, these pergolas do not require a building permit because there's no closed roof, so we can begin work without delay.
Create a Resort-Like Space in the Backyard
Imagine a getaway in your backyard where you can work, swim and play. We'll construct your dream space with outdoor lighting to accentuate your trees, shrubs, fire pits or BBQ area. You and your family will enjoy a luxurious resort-like area right in your backyard with outdoor lighting and water features.
Relax, entertain and enjoy your backyard next summer by calling Maxwell Landscaping now. You'll enjoy outdoor living with comfort and privacy when the weather warms up again. Use the convenient contact form or call us at (704) 469-5766. We serve Cabarrus, Catawba, Iredell and Mecklenburg Counties in North Carolina.