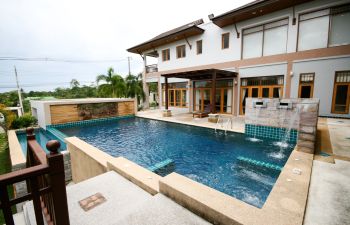 The weather is improving and you are probably spending more time in your yard. When the demands of life get in the way of well-deserved relaxation, something has to change. In reality, you don't have to compromise. There is an answer that will give you the best of both worlds.
Creating an outdoor space that provides functionality is the solution to your problems. When you can take care of feeding family and guests in your garden oasis, there is more time to feel relaxed and able to enjoy the day.
Redesigned Poolside
There are unlimited ways to redesign your poolside for better relaxation. Stone seating areas, a lounging deck or waterfall steps can really enhance the experience. You only need to imagine the hardscape features that will bring you the most joy and Maxwell Landscaping will do the rest.
We have extensive experience in helping customers achieve their dreams from concept to installation. Our team works with the best suppliers and contractors in and around Mooresville. We like a challenge, so don't be afraid to let your imagination run wild when it comes to design elements and functionality.
Outdoor Kitchen
Remember all those times you missed the best part of the day because you had to make dinner? An outdoor kitchen will solve that problem. The functionality of this hardscape provides numerous benefits. You can entertain guests without ever having to excuse yourself. Cooking outside also means that you are involved in all the memories created with family and friends.
Besides poolside areas and outdoor kitchens, there are countless ways you can improve your outdoor experience. At Maxwell Landscaping, we form cooperative relationships with all our customers. Helping you explore your options and watching your project come to life is all part of why we do what we do.
Contact us today at Maxwell Landscaping and share your dreams for enhanced outdoor living.