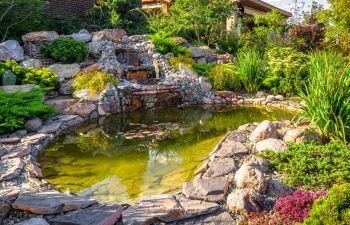 Does your neighborhood look like the developer used the same set of house plans over and over again? If you are tired of looking the same as your neighbors, then it is time to call the professionals. A well-executed landscape design with hard landscaping installed will make your property unique.
What Can a Good Design Do?
Professional landscape designs can be easy to maintain or make the most of your green thumb. Even a small yard can be made to stand out, give you privacy, mark your boundaries and expand your outdoor living area.
Imagine your yard broken up into fully thought-out, independent rooms. For example, there is a room for your front entrance. It probably has a walkway from the driveway to your front door and some lighting elements. You may plan to have special plantings that will absorb sound from the street. With everything in its place and carefully laid out, you will reap the most benefit from your design.
You don't have to install everything at once. But if you plan for it, there will be less headache when you go to install it.
What is Hard Landscaping?
Once you have a design to guide you, you will need a hard landscaper to come in and construct the garden's structural elements. Hard landscaping is done before the installation of any plants. This is different from a landscaper who comes and maintains your lawn.
Hard landscaping is the installation of all 'hard' things that are out of concrete, metal, brick, stone or wood in your landscape design. Hard landscaping involves heavy labor and often heavy equipment. Construction skills are a must. Therefore, it is easier on you if you can find a company that will help you plan and execute that plan. Well-placed and professionally crafted hard landscaping adds to your property value.
You Want Top-Rated Professionals
When investing in your property with design and hard landscaping, you will want to be careful who you hire. Maxwell Landscaping in the Lake Norman area has been awarded as a Top Client Rated Contractor four years in a row. Call and set up an appointment to sit down with your wish list and design your dreams with a full service team.