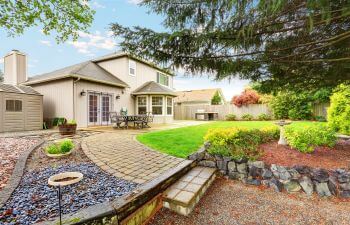 The Maiden area of North Carolina is a unique part of the American landscape. Here, natural beauty meets innovation as beautiful forest parks and lakes share space with world renowned tech data centers. Affectionately known as "The Biggest Little Football Town in the World", Maiden area residents clearly value camaraderie, togetherness and ambition. At Maxwell Landscaping, we are committed to taking what makes the Maiden area so wonderfully unique and reflecting that in the gardens of our customers.
This summer, let Maxwell Landscaping help you marry the natural beauty of your outside spaces with modern, innovative design ideas. With an extensive range of hardscaping choices, you can open up your home's exterior for many opportunities to socialize with friends and family in the great outdoors. Our landscaping options will give you a garden in bloom all year round, increasing the appeal of your property to friends and neighbors.
Customize Your Garden with Outdoor Hardscapes
The right hardscaping design can transform the look and function of your outdoor space. By bringing the facilities and luxury of indoors to your garden, you create a free-flowing environment for entertaining and relaxing. Enjoy summer days and evenings with friends and family or take a break from the world in your own secluded hideaway.
An outdoor kitchen is a stunning choice to enhance any garden. Maxwell Landscaping will work with your design ideas to give you the look and functionality of your dreams. Incorporate a grill, seating area or outdoor wet bar to make any social occasion unforgettable. An outdoor fireplace or fire pit makes your garden a feature all year round. Get cozy with loved ones around a simple campfire-style design, or go all out with a detailed structure incorporating a paver patio.
Create a Green Space Built Around You
A beautiful garden with a lush, green lawn and vibrant flowering plants will enhance your property. At Maxwell Landscaping, we understand that not everyone has the time or inclination to tend to a high maintenance garden, yet still desire the look of a well-kept green space. Our experts will discuss your upkeep expectations with you to develop a space suited to your needs.
Bring your inspiration to life and get the garden of your dreams in time for summer. Contact Maxwell Landscaping today.