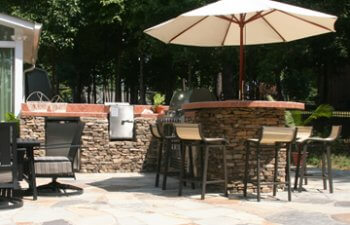 What is the purpose of hardscapes? Most people have an immediate idea of what a typical landscape might look like. When it comes to hardscapes, the types of features used can cause confusion. However, the idea is not as complicated as you may think.
Hardscapes are basically any manmade feature that is added to your landscape or around the home. For instances, paths and walls are common hardscape features. If you have ideas for improving your outdoor experience that don't involve vegetation, Maxwell Landscaping can help.
Aesthetic Hardscapes
Some hardscape features are installed for purely aesthetic reasons. Installations such as walls are not necessarily functional. You can change the layout, balance and symmetry with attractive hardscapes. Alternatively, you may want to add attractive constructions that capture the attention of visitors.
Maxwell Landscaping can help you choose or design the right hardscapes for optimal aesthetics. Our extensive experience means we are passionate artisans with an eye for detail. If you have a challenging project in mind, call today to discuss your needs.
Functional Hardscapes
Most hardscapes can or do provide some level of functionality. A path that provides a walkway around your landscape or a pond that is home to aquatic wildlife are common examples. You can also add features that enhance your outdoor living experience, such as an alfresco kitchen and bar.
Many of the hardscape installations that Maxwell Landscaping customers request are designed for outdoor entertaining. Seating areas that catch the sun, playhouses for kids or a pool where family and guests can cool off are popular additions to any garden.
If you would like to explore what is possible with hardscapes for your Lake Norman home, call Maxwell Landscaping today. We look forward to helping you achieve the ultimate outdoor living experience.